Compression Tube Fitting Manufacturer in Mumbai, India
Supreme Metals comfort constructors to ease their business by providing various engineering solutions
Tube Fittings
Supreme Metal Works, manufacturers of tube fittings, produce high-quality single and double ferrule compression fittings for a range of industrial applications. Our expertise in being tube fitting manufacturer excels us in tube fittings that provide totally safe and 100% leak-proof fittings for piping used in instrumentation, hydraulic, pneumatic, and gas systems. Other applications include oil, SWASS panels, hook-up, and chemical flow. Our state of the art inspection facility helps to ensure the high-quality performance of the tube fittings without the hazard of leaks and loss of efficiency.
All fittings are designed to offer maximum protection to the tube, without any harm to the tube wall. As a dependable ferrule fittings manufacturers, we ensure total conformance to the double ferrule designs.
The fittings are compatible and interoperable with leading brands and manufactured in stainless steel and exotic materials. The different sizes and configurations available with tube fittings manufacturers in India further widen the scope of usage across various industries. You can connect with us for various grades of tubes from us at SMW, your reliable compression tube fittings manufacturer.
Our core manufacturing strength lies in our understanding of the product and the available technology to deliver a world-class product making us one of the best compression fittings manufacturers in India. We also have a wide distribution network in alliance with our flagship company which makes our products available globally and within reach of our clients.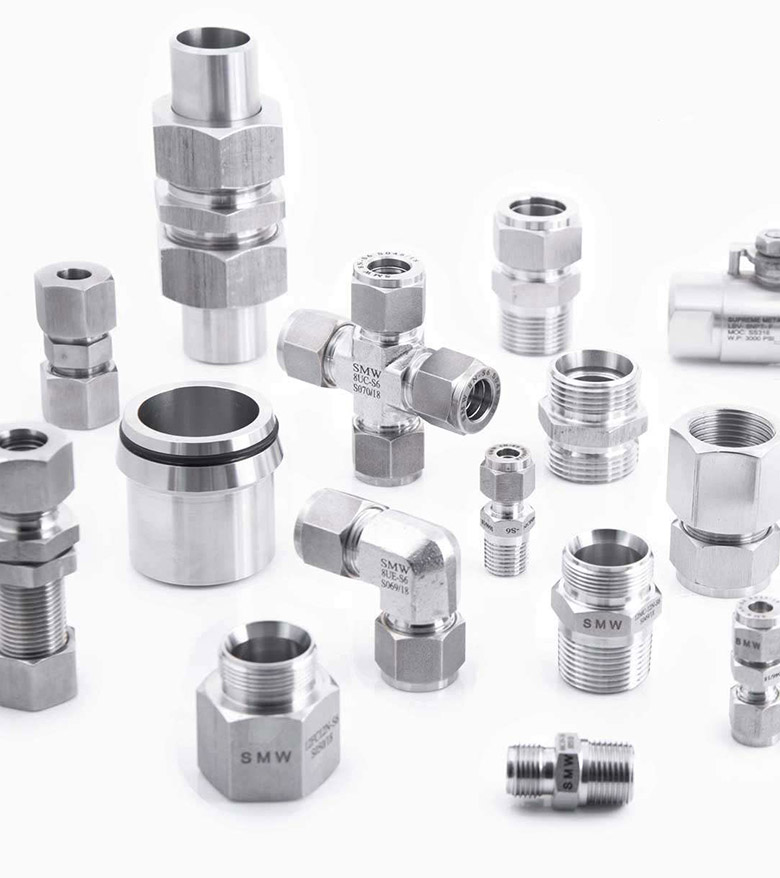 We have a qualified team of inspection personnel along with state of the art equipment to measure, record and maintain traceability reports.
Supreme Metal Works also supplies other instrumentation options like Valves, Manifolds Condensate pots, Air headers, Air distribution pots, Flanges and Tubes. These are elementary options for Instrumentation Hook ups and help our customers to get a complete yet economic package. All our supplies are provided with inspection and validity certifications.